Thanks to our years of arranging and conducting Funerals, as well as our excellent relationship with local and national suppliers, we are able to offer a huge range of Funeral Products and options to ensure that you receive a truly personalised service without limitation or restriction.
Coffins
We offer the full range of products from JC Atkinson (www.Coffins.co.uk) from the traditional wood veneer coffins, through to American style caskets. We can offer fully customisable picture coffins for a truly personal touch and of course we have access to a range of environmentally friendly options such as Willow and Bamboo.
Vehicles
As standard we use a fleet of immaculately presented Jaguar Hearse and Limousines but we are able to provide various options as required. From traditional horse drawn hearses to converted Subaru rally cars or even a Reliant Regal Supervan as seen in Only Fools and Horses. The options available are endless and we will work with you to ensure the most fitting option is chosen for your loved ones send off.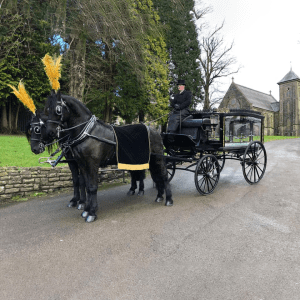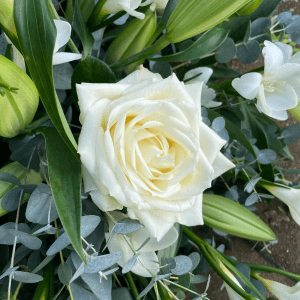 Flowers
We work very closely with Beth at Ditsy Blooms (www.ditsyblooms.co.uk) here in Budleigh Salterton. We feel that rather than pick from a brochure it is better to speak directly to an experienced florist who will be able to guide you through the options available and plan a fitting tribute for your loved one to express their personality.
Funeral stationery
Printed Order Of Service sheets are often used to guide the congregation through the service but also act as a keepsake so we offer a fully bespoke design service from start to finish. We don't place a limitation on the number of pages or photographs that are included and have the end product printed to the highest quality. We are able to compliment these products with Books of Condolence, Memory Cards, Bookmarks and a whole range of additional products.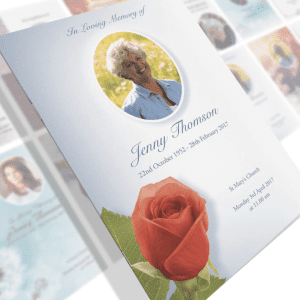 Online Obituaries
Through our partnership with MuchLoved (www.muchloved.com) we can create your own special memorial website in tribute to your loved one, where you can share memories, thoughts and stories with family and friends as well as light candles, add music, photos and videos. You can collect fundraising donations for a special charity or project in their name,organise events, celebrate anniversaries – and much more. It's simple, quick and free to set up.